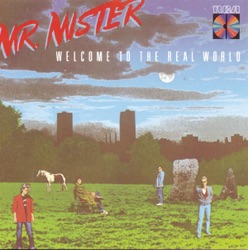 Broken Wings
Mr. Mister
23 hours ago
Just To See Her
Smokey Robinson
23 hours ago
The Breakup Song (They Don't Write 'Em)
Greg Kihn
23 hours ago
Everybody Have Fun Tonight
Wang Chung
23 hours ago
Here Comes the Rain Again
Aretha Franklin & Eurythmics
23 hours ago
Let's Wait Awhile
Janet Jackson
23 hours ago
Blue Jean
David Bowie
23 hours ago
Never Gonna Give You Up
Rick Astley
23 hours ago
If You Leave
Orchestral Manoeuvres In the Dark
23 hours ago
Come Back
J Geils Band
23 hours ago
Ver más
The Big 80s Station en vivo
Playing The Big Hits From The Big City!
The Big 80s Station is an online radio channel that live streams globally and 24/7 the greatest hits that defined the 80s, selected by radio personalities from that decade. The channel is part of Big Sticks Broadcasting Corporation, a NY based media consultant for radio.
Frecuencias The Big 80s Station
Nueva York: Online
Lista de las canciones más escuchadas
Últimos 7 días:
1. Big Lo$ - 80s Band
2. Kev Masih - Big 80s
3. TACO - Puttin' on the Ritz
4. Scritti Politti - Perfect Way
5. Soft Cell - Tainted Dub / Where Did Our Love Go?
6. Berlin - No More Words
7. Corey Hart - Sunglasses at Night
8. Breakfast Club - Right On Track
9. The Escape Club - Wild, Wild West
10. The Psychedelic Furs - Love My Way
Últimos 30 días:
1. Kev Masih - Big 80s
2. Big Lo$ - 80s Band
3. Breakfast Club - Right On Track
4. Men Without Hats - The Safety Dance
5. Nu Shooz - Point of No Return
6. Reflex - The Politics of Dancing
7. Gary Numan - Cars
8. Nu Shooz - I Can't Wait (Powermix)
9. Devo - Whip It
10. Frankie Goes to Hollywood - Relax
Contactos
Redes sociales
Compartir
Comentarios